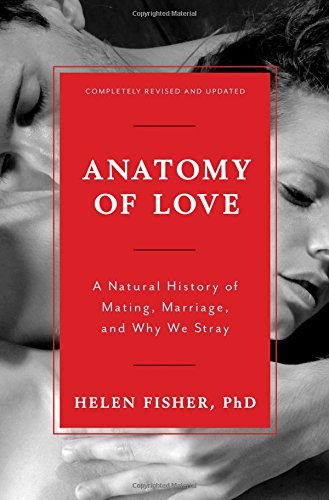 Anatomy of Love: A natural history of mating,marriage and why we stray  is a new book for you to read.   The book was written by Helen Fisher PhD, our co-founder!   It was published on February 1, 2016.
You can buy it here.
Here is what the book jacket says:
A contemporary classic about love now completely revised and updated.
First published in 1992, Helen Fisher's "fascinating" (New York Times) Anatomy of Love quickly became a classic. Since then, Fisher has conducted pioneering brain research on lust, romantic love, and attachment; gathered data on more than 80,000 people to explain why you love who you love; and collected information on more than 30,000 men and women on sexting, hooking up, friends with benefits, and other current trends in courtship and marriage. And she presents a new, scientifically based and optimistic perspective on relationships in our digital age―what she calls "slow love."
This is a cutting-edge tour de force that traces human family life from its origins in Africa over 20 million years ago to the Internet dating sites and bedrooms of today. And it's got it all: the copulatory gaze and other natural courting ploys; the who, when, where, and why of adultery; love addictions; her discovery of four broad chemically based personality styles and what each seeks in romance; the newest data on worldwide (biologically based) patterns of divorce; how and why men and women think differently; the real story of women, men, and power; the rise―and fall―of the sexual double standard; and what brain science tells us about how to make and keep a happy partnership.
Praise for the revised Anatomy of Love:
"This book is a marvel.  I eagerly read everything Helen Fisher writes.  She is a national treasure.  So illuminating!"  John Gottman, author of the revised Seven Principles for Making Marriage Work.
"Is romantic love a creation of troubadours and poets, or has it deep evolutionary roots? Is the seven-year itch really the four-year itch? Does true love betray itself in a brain scanner? With the eyes of an anthropologist and the voice of a poet, Helen Fisher lays bare the many worlds and ages of erotic love. And she knows whereof she speaks." (Richard Dawkins)
"For journalists around the world, Helen Fisher has been the go-to authority on love and heartache since the first edition of Anatomy of Love. No one else knows the human heart so well―or explains it with such wit and style." (John Tierney, coauthor of Willpower: Rediscovering the Greatest Human Strength)
"Our conversations with Helen Fisher were crucial to understanding the current romantic climate. This revised version of Anatomy of Love is a great read for anyone interested in understanding love and romance. Also, Helen was kind enough to blurb our book, so we'd be real dicks not to do the same for her. Luckily, her work is fantastic and no moral dilemma has been posed." (Aziz Ansari and Eric Klinenberg, authors of Modern Romance)
"Fisher weaves a persuasive and consistently surprising new explanation of the roots of human marriage, sex, and love. Her account cuts more deeply than the ordinary literature on human sexuality." (Edward O. Wilson)
It's available in hardback on Amazon.com, and there is a kindle edition.
Other books by Helen: Why We Love and Why Him, Why Her?
BOOK PARTY- Memorable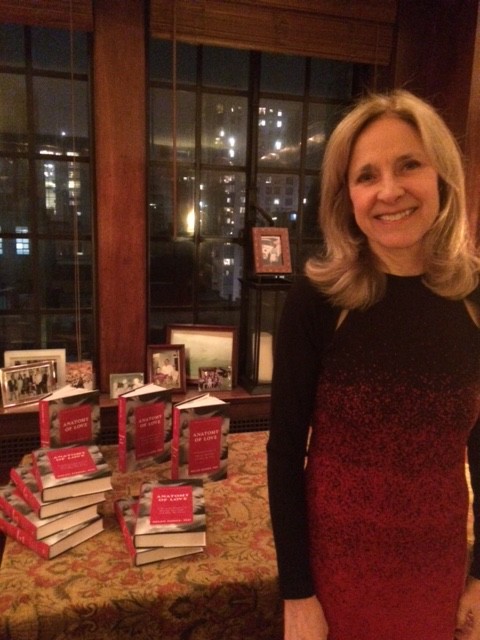 Yes, we had a book party!  One of Helen's friends gave her a book party at his apartment the evening of January 25.  There were about 100 people there.  There was a heated tent set up on the terrace to accommodate everyone!  But, this was not just an eat, drink and be merry party. After about an hour, Helen gave a brief speech and then there was a lively Q&A.
The host of the party, Gerry Ohrstom, introduced her in a engaging way, reminding all of us that she is a TED star presenter and she's written several other books.  But, he said he was especially intrigued by the term she used in the first chapter of this recent book: the "copulatory" gaze.  Everyone laughed.  We were at a party where flirting was certainly possible, as at all parties, and someone may have been using that gaze.  We all know what she meant, what ethologists mean by the term copulatory gaze-- when someone stares at you for several seconds, and then looks away, but then looks back for several seconds.  They want you to look at them.  They are intensely interested in you.
Helen  summarized the high points of the book.  Her Prologue starts out with a quote: Journalist: Why do you only write about relationships? Nora Ephron: Is there something else?  We all experience love and relationships.
Helen said the evidence is overwhelming that pairing up is natural for us as humans.  We have a drive to pair up.  But it is natural for us to stray, too.  We can overcome that tendency to stray, but for some people it's not easy.
She said that the way we court may change with technology, but romance will always be there.  Maybe now we can experience "slow love" before getting married, and in the future we may have better marriage relationships.  Her last chapter is about this possibility.
Helen closed her speech by saying how she walks through the Museum of Natural History or the Metropolitan Museum and looks at the ancient bracelets or pins and thinks how those objects may once have been so significant as gifts of love thousands of years ago.  Love and romance has been around a long, long time.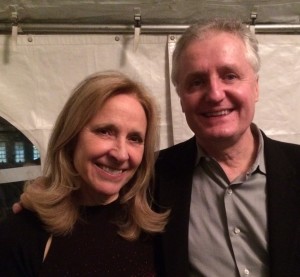 Helen at the book party with friend John Tierney.
Before Helen and Lucy knew him, he wrote an article
in the NY Times about the first paper we published on
the brain systems of romantic love.  The title was Love Sears the Brain.
The Q&A at the party was interesting.  One young man said, "But my girlfriend and I are polyamorous! We are not focusing on just one person, like you say we are built to do.  We have relationships with many people at the same time.  Maybe pairing up is cultural???"   There was a long interchange about this issue.  Basically, Helen said "You can do that, but it's hard.  It's takes lots of energy, and most people don't find it worth the trouble."