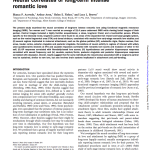 Many classifications and typologies of love exist in the literature, but the most common distinction is between passionate love and companionate love. Hatfield (Walster) and Walster (1978) described passionate love as: A state of intense longing for union with another. Reciprocated love (union with the other) is associated with fulfillment and ecstasy; unrequited love (separation) is associated with emptiness, anxiety, or despair (p. 9).
Click here to download the PDF.
Click Here to take the Passionate Love Scale yourself!
NEXT