Today, Lucy got an email message from Helen, quoted below.  Helen has been away for over two weeks traveling on a vacation to Turkmenistan, Kyrgystan, Tajikistan and more-- all those countries north of India and near Afghanistan.  She went into the Pamir mountains on the Pamir Highway, which is exotic, but very rustic and even dangerous.  Lucy was afraid for Helen's safety and very happy that she finally wrote this letter when she could get on the Internet again.  Helen is an Explorer!  Anyway, she writes this pretty entertaining travel description and gets a great quote about love in this war-torn region.  It's in bold, below.
"Hi there.  Well, we made it just fine.  It was a 16 hour drive to Khorog from Dushanbe because the plane couldn't fly.  and then 10 hours a day for the next 3.  But the sites were so remarkable that I couldn't even read in the car as I usually do.
"Sometimes the road was terrifying, one lane, mostly dirt, wild with potholes, even streams to be forded the whole way, and if I had stepped out of my side of the back seat I would have plummeted several hundred feet into the Pyanj river…and swam to Afghanistan.  You could hit a tennis ball to Afghanistan across the river. Tanks, heavy and light, soldiers riding in big trucks, even a General with lots of stars, all Russian in a long convoy at one point.  Guards at endless check points, all scowling. Our first driver was a maniac and had I believed in high and ghostly matters, I would have made my first appeal.
"Our second driver, who was with us for 3 days was a lovely guy. He was a Tajik, and we were in Tajikistan.  When I sat up front, he told me all about his unfaithful girlfriend, along with one classic comment:  "Love is like war: easy to get into and hard to get out of."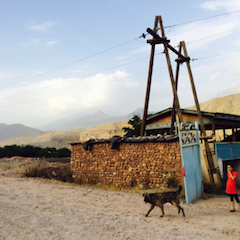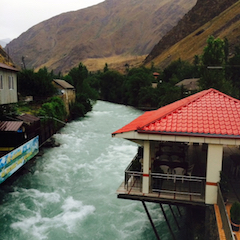 "The terrain changed dramatically, high red rocks reaching to Mars, then along the river little villages of rock and mud, women in bright dresses and all so very poor, then up into the mountains full of yurts and yaks and nice soup for lunch in cement shacks. We slept in guest houses with no electricity—where I learned my lesson about packing. The two others had brought big suit cases and I had been silently smug about all the times they needed help and I didn't. But when the chips were down…BOTH OF THEM had a flash light and I didn't.  I had to concede all valor.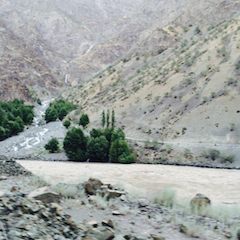 "Now we are FINALLY BACK  in civilization…by that I mean that there is electricity in this little hotel room, and a shower and toilet (rather than a hole in the ground.)  And…it's OVER.  Tomorrow we make our way to Almaty, the capital of Central Asia and on home.  I'm fine.  I was never scared of anything except the driving. I hope I never do that again."
From Wikipedia:
NEXT